One week to go. Time to get nearly everything weighed, packed, and ready to roll. The tandem is of course the greatest worry, as I'll hand it over at Heathrow Airport. I think I made a decent job of packing it back into the box it came in, but we'll only know when we get to put it together at Kristiansand airport. I thought I'd appeal to the baggage handlers by decorating the box: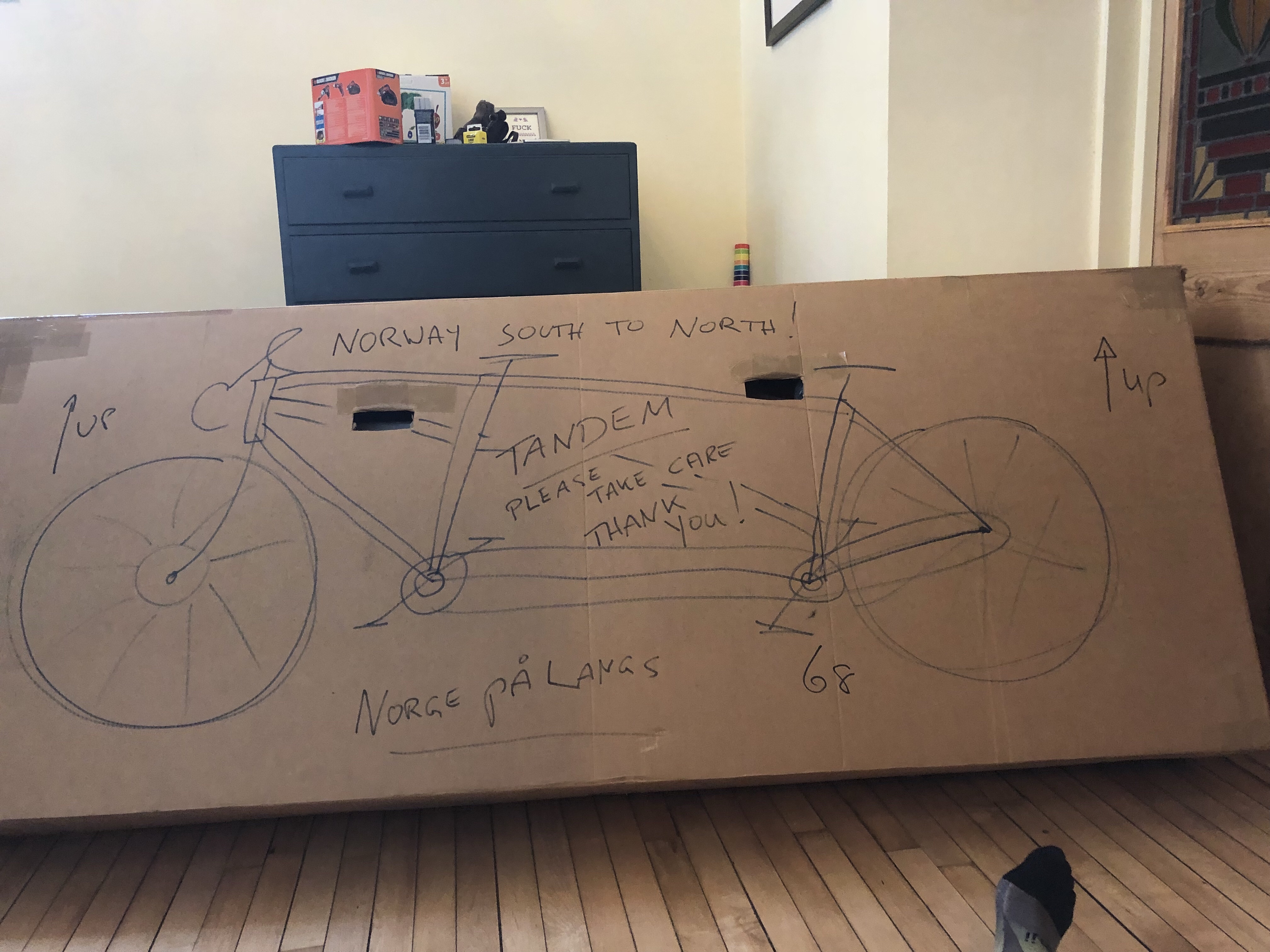 Apart from the bike, there's all the accessories, spare parts, tools etc to weigh and pack into the Ortlieb Trunk Bag. This will need to go into the hold luggage, thanks to the "dangerous" tools.
Next is the personal kit. We set ourselves a (somewhat arbitrary) limit of 6kg per rider. So far, I'm at around 3 kg with clothes and shoes, including cycling rain gear, but not counting the cycling stuff I'll be wearing.
Lastly there's my personal "hard kit". Minimal wash bag with toothbrush and paste, small piece of soap, chamois cream (to prevent bum chafe). Then there's "just" the electronics – the temptation is to take far too many gadgets, so I will need to have a good think what I really want. The iPhone is a bit of a Swiss Army Knife, from blog typewriter to e-reader to radio to camera. I'm wondering if I really want to take the GoPro, but I think I'll regret not having another camera for our great adventure.
Enough rambling for today – this post was really mainly a test if I can write longer blog entries on the iPhone. I think it'll do, even though the on-screen keyboard is a bit fiddly. The one thing that doesn't work, though, is the blog extension plugin thing with the maps. I had hoped to update every day with our location – looks like I'll have to do it via Strava or something instead.
Edit: Try another map plugin
[mappress mapid="1″]